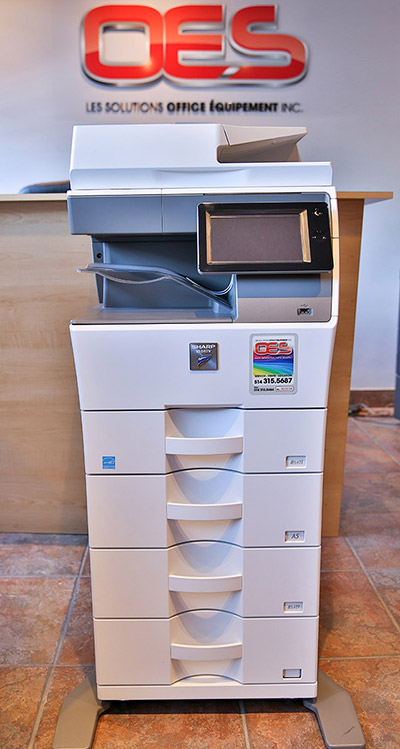 How does leasing with OES work?
Once you have chosen the photocopier(s) that fits your company's needs, you can choose to buy or lease.
For leasing, you can choose the rental period that best suits your company's needs. Regardless of the lease term that your company has chosen, you can decide if you want a $10 buy-back option or a purchase option at 'Fair Market Value' (FMV) at the end of the term. Why choose FMV you ask? Ask your accountants to be sure, but sometimes they prefer it.
Why choose OES?
OES is the largest authorized Sharp and Oki products reseller in Quebec. Our focus is on service and customer satisfaction. We provide fast, quality service within 4 hours, using only 100% original parts (OEM). We offer one of the most comprehensive guarantees in the industry, with our '7 Year Replacement Guarantee' on all our models (new, 'demo' and refurbished). The replacement warranty ensures that you will always have a functional unit, and it protects against any repetitive defects.  We call it our "LEMON PROTECTION!"
Are all installation/maintenance fees included in the leasing price?
Installation and transportation costs are included in the purchase or lease agreement. The maintenance fee (service contract), is a separate agreement and is normally billed on a per copy basis. In your cost per copy, ink/toner cartridges are included, 100% parts and labor (technician included), network installation, preventive maintenance and equipment usage training. You pay for your copy consumption (monochrome or color) which includes all that is listed above.
What models do you offer for lease?
We offer Sharp, Konica Minolta and Oki photocopiers/Multi-Functional Printers (MFPs). We offer a full range of models to choose from. Whether your office needs a monochrome (B&W) robust table-top MFP, or an 80 page per minute colour work-horse with a booklet maker… We have the right equipment for you.  We have the full product line of 2018 models; as well as, an extensive range of refurbished and 'demo' models.  Visit the "PRODUCTS" section of our website, to view all of the models we carry. If a model you are looking for does not appear on the website, we will get it for you at the best possible price.
Can we purchase our photocopier during the leasing term?
Yes, and you will have to pay the balance of payment on the photocopier.
Why is it easier to rent for a company?
Because it is a 100% operational cost expense vs. a depreciation for a company. On the other hand, each company has its own accounting philosophy.
Renting or Leasing, also gives the customer the ability to upgrade or make changes more frequently, and this helps your office be as productive as possible.