Standard copy, print, scan, fax and wireless capability right out of the box.
100-sheet duplexing document feeder on the MXB476W scans both sides of document in a single pass, enhancing productivity while also maintaining the integrity of your originals and minimizing wear on the feeder.
Both models can feed letter size, legal size, statement size and business card size original documents.
Built-in optical character recognition (OCR) function can convert scanned documents to text-searchable PDF format, Microsoft® Office file formats, and more.
Offers up-to five paper sources with available 2,350-sheet maximum paper capacity.
Standard compact PDF feature dramatically reduces the file size of most colour scanned documents, resulting in decreased network traffic and more efficient use of disk and cloud storage.
Award winning 7″ (diagonal) customizable touchscreen display with a clean design enables easy access to features and functions when setting up jobs.
Network ready PCL® 6 and Adobe® Postscript® 3™ printing systems deliver crisp, clear documents at up-to 47 pages per minute.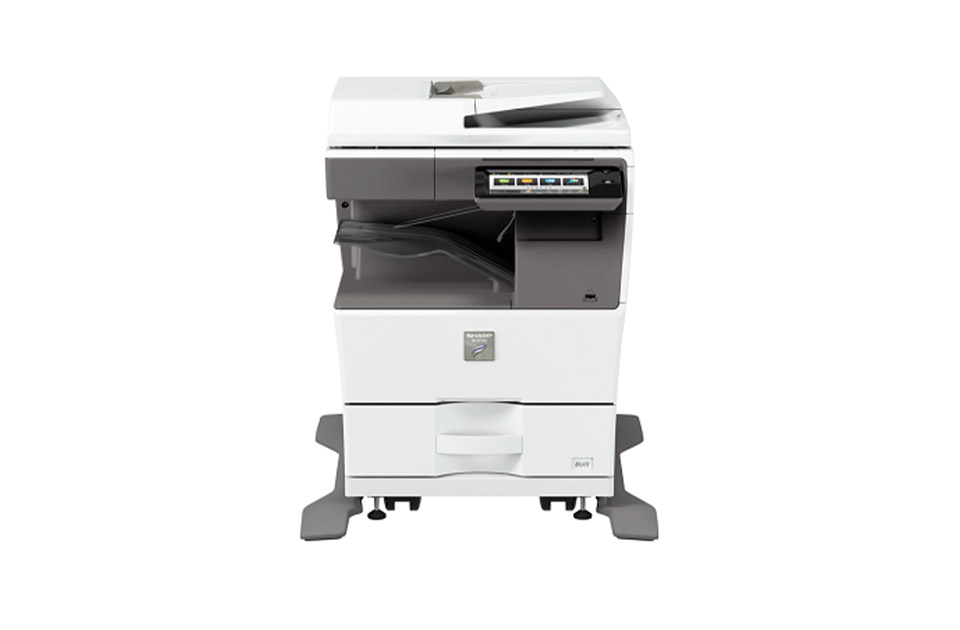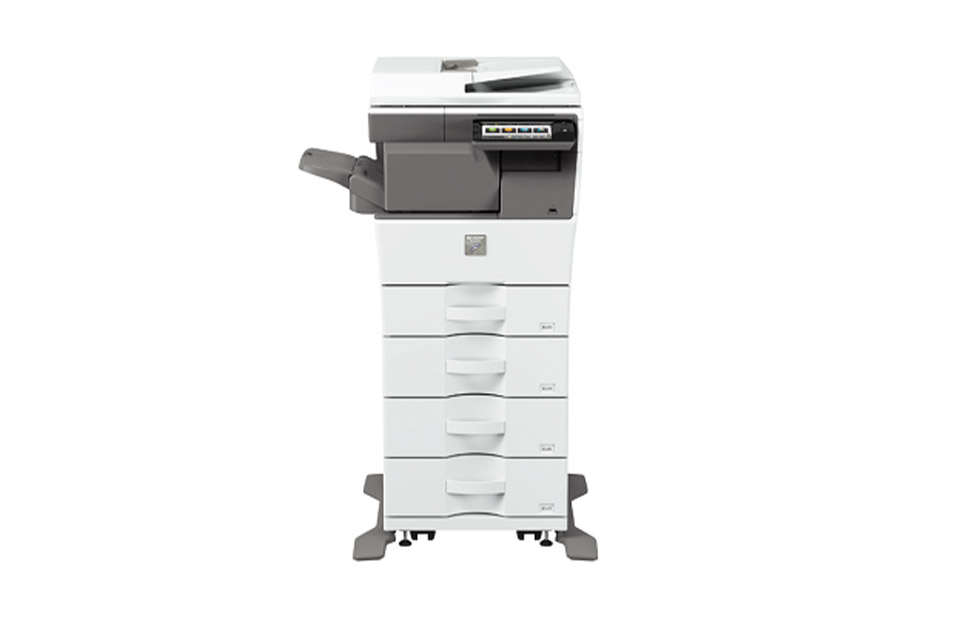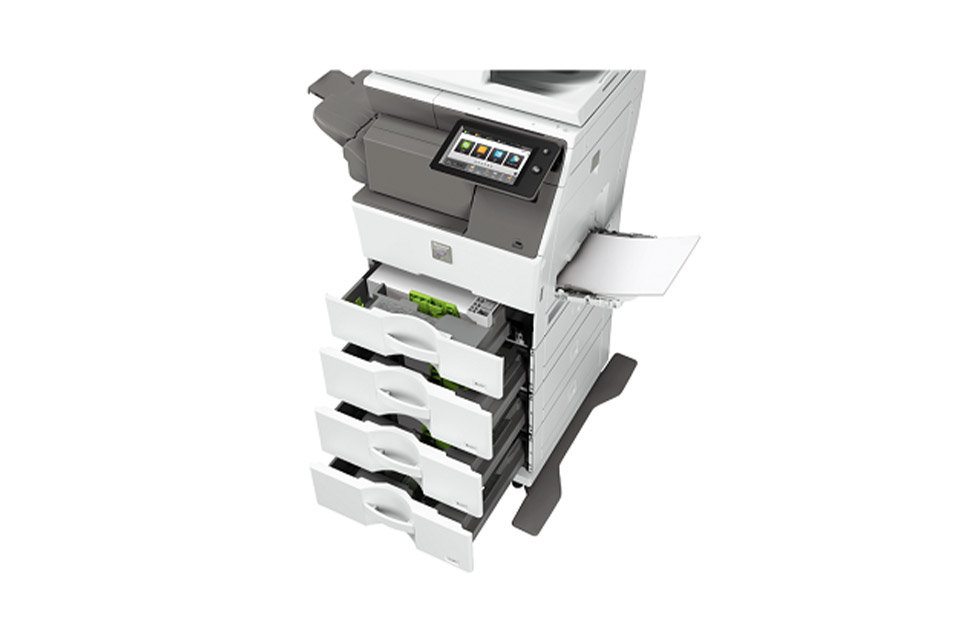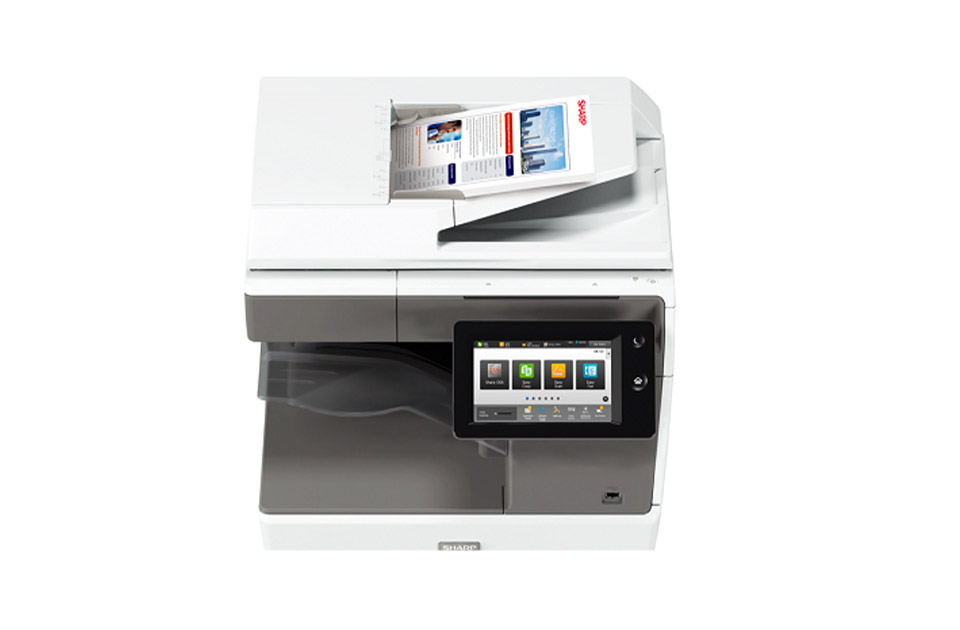 The MXB376W and MXB476W Advanced Series Desktop Monochrome Document Systems deliver crisp, high-quality output with exceptional ease-of-use. These new models provide customers with an intuitive user experience and the confidence of knowing their jobs will come out right the first time, every time. Designed with high-performance features typically found on larger machines, the compact MXB376W and MXB476W deliver the productivity you need with the performance and reliability you want.
Simple and Intuitive Operation with Impressive Performance
When it's time to get the job done, the MXB376W and MXB476W are outstanding performers. Quickly scan documents at speeds up-to 110 images per minute (MXB476W). From basic copy functions to complex scan jobs, the MXB376W and MXB476W can get the job done efficiently. Use one of the Easy Modes for fast, simple operation, with basic functions displayed in large, clearly-labeled tiles and keys. For more advanced features, simply touch the "Detail" key.
A "Well-connected" Device
Connecting a multifunction printer (MFP) to your wireless network and accessing it from mobile devices has never been so easy with the MXB376W and MXB476W standard wireless networking features. Print from or scan to popular cloud services such as Microsoft OneDrive for Business, SharePoint Online, Box, Dropbox and Google Drive with Sharp's Cloud Connect features. Single Sign-on (SSO) support for accessing these services makes scan-to-folder and scan-to-email operations simpler than ever. Even printing from your desktop is made easier with Sharp's Serverless Print Release function. Easily send a job to one device, and print it on another. Easy Copy Screen offers the most commonly used settings.
Distribute, Access and Print Your Documents with Ease
Sharp makes it easy to go beyond traditional network scanning with standard Email Connect and Cloud Connect features. With Email Connect, scan to email is seamlessly integrated with Microsoft Exchange/Office 365® and Gmail™ user accounts, making it easy to identify the sender of scanned files. With Cloud Connect, users can easily scan-to and print-from Microsoft OneDrive for Business, SharePoint Online, Google Drive, Box and Dropbox. And with Sharp's Application Portal administrators can add new apps and update existing apps right from the MFP touchscreen panel.
Scan and Print Files Easily from Mobile Devices
Easily scan and print files from tablets and smartphones using Sharpdesk® Mobile, a free downloadable app available for most common mobile devices. *1 The MXB376W and MXB476W also support popular mobile technologies such as AirPrint®, Android™ printing framework and Google Cloud Print™. *2 With standard wireless networking, users can also print directly to the MFP from mobile devices without interfering with the corporate network!
Manage Different File Types with Intelligent Image Processing
Easily scan documents to popular file formats including Microsoft Word, PowerPoint, and Excel, as well as a variety of PDF formats such as Searchable PDF, Encrypted PDF and others. You can also direct print these same file types from thumb drives, cloud applications, and mobile devices. This function is enabled via Qualcomm DirectOffice technology. These models also support the Adobe Embedded Print Engine, which direct prints PDF files from a variety of sources with greater performance and rendering accuracy.
Flexible Printing Solutions Help Speed Up Your Office Productivity
Standard with Adobe PostScript 3 and PCL 6 printing systems to help you speed through all of your output needs with accuracy. To help streamline your jobs, these powerful performers include Serverless Print Release technology, enabling you to securely print a job and release it from up-to six Sharp MFP models on your network. *2 And with Google Cloud Print web printing service, you can print from Chromebook™ notebook computers, PCs and more.
Simplify Complex Business Workflows
Sharp OSA technology can help your business leverage the power of your network applications, back-end systems and cloud services. *2 Easily automate complex processes and help eliminate redundant tasks. Create your own custom integrations or take advantage of the growing portfolio of Sharp OSA applications available from Sharp Partner Program members.